Shipping Charges
Beachside Lighting ships product from O'ahu, Hawai'i, using different carriers, depending on the destination. Our official domestic (USA) freight allowance policy is to ship via standard method (not expedited) with the following order cutoffs:
Orders below $5000: Customer pays
Orders of $5000 and above: Beachside pays 50% freight charge via standard method
Orders where an expedited method is specified by the customer, such as UPS Blue or Express Mail, will be charged any additional freight not covered in the above schedule.
*This policy applies to fixtures and accessories. Some accessories and transformers may be drop-shipped from other US mainland locations. This policy does not include landscape lighting wire or DB, GL, and MTP series landscape transformers. Customer pays freight on landscape lighting wire regardless of order total. Customer pays 50% of freight on DB, GL, and MTP series landscape transformers for orders of $5000 and above.
Shipping Methods
US Mainland
UPS Ground is standard. "Ground" may sound strange coming from Hawai'i, but packages get flown to the UPS hub in Ontario, California, and are trucked from there. This typically takes between 3 business days (west coast) and 6 business days (east coast). The service is trackable.
Cost: Typically between 4 and 6% of order total, but this figure may vary.
UPS Blue (2nd Day Air) can be specified. Two business days (excluding holidays) to any US mainland location.  To east coast locations, UPS Blue often is the same cost or even lower than UPS Ground, in which case we will default to the quicker service.
Cost: Typically between 5 and 8% of order total, but this figure may vary.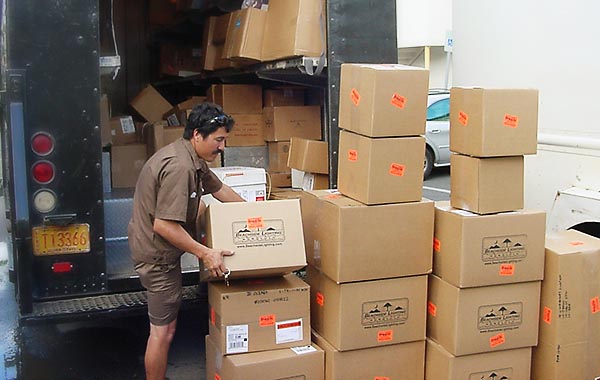 US Territories
US Territories (including USVI, Puerto Rico, Guam, Saipan, Palau)
US Postal Service Priority Mail is standard. 3 – 8 business days. Other carriers charge as if these are other countries; USPS sees it differently. If you have a US zip code, you'll probably receive the product before the final invoice.
Cost: Typically between 3 and 8% of the order total.
Express Mail can be specified. 2 – 3 business days. Trackable.
Cost: Typically between 6 and 15% of the order total, but this figure may vary.
International
Costs can vary greatly for international shipments.  Typically, overseas customers arrange and pay for freight using their own account with their own carrier, such as DHL or FedEx.  Beachside provides box weights and dimensions of the shipment to the customer for this purpose.  If the customer does not have their own shipping carrier and account, Beachside can get a quotation for freight using our default carrier, UPS, and have that freight cost added to the overall product quotation.
Remember, if this shipment can go to a freight forwarder that the customer typically works with on the US mainland, this will be the most cost effective method. For example, an order that would go to Bermuda or Barbados would ideally be shipped to a freight forwarder in New Jersey or Miami. Thus, our domestic freight policy would apply.